SONICOM officially kicks off with the inaugural annual meeting
With representatives from all partners present, the meeting provided a fruitful basis for discussions on delivering the project's pioneering objectives over the next 5-years.
The SONICOM Kick-Off Meeting took place online on Thursday, 20th May 2021. With a lot to get through, the condensed agenda began with Coordinating partner and Principal Investigator, Dr Lorenzo Picinali from Imperial College London, chairing salutations and introductions. The consortium was fortunate to be joined by the Advisory Board and External Ethics Advisor who were introduced to partners and their teams involved in SONICOM.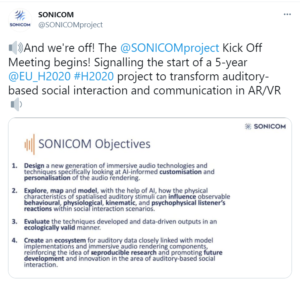 Despite the tight schedule, Dr Picinali had time to kick off the presentations with a quick pop quiz; posing a series of questions to the consortium on head-related transfer functions (HRTFs) which sparked interesting discussions exploring what answers SONICOM research is hoping to uncover in these areas.
Following this, the Work Package (WP) presentations were the focus of the remaining morning session – with each WP leader sharing a description of work they plan to achieve and research questions they hope to investigate. The penultimate session was dedicated to conversations with the Advisory Board which encapsulated the proverbial phrase, so many things to discuss, so little time. Nevertheless, the Board and the consortium covered a lot of ground in areas such as impact and identifying commercial collaborative partners.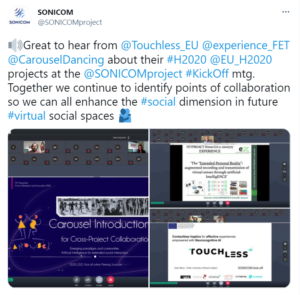 The last part of the meet held a series of bilateral meetings with the members of the TOUCHLESS, EXPERIENCE and CAROUSEL+ consortia, forming part of our commitment to the Cross-Projects Collaboration initiative set for all 'FETPROACT-EIC-07-2020 – FET Proactive: emerging paradigms and communities' projects. The projects honed in on prospective areas for collaboration and reciprocal activities to maximise each other's research outputs including public outreach activities and technology integration.
The meeting wrapped up Thursday early evening with a close and 'next steps' from Dr Picinali. Overall, the meeting was a huge success, and we look forward to collaborating with such an excellent consortium and the FETPROACT-EIC-07-2020 projects over the project's 5-year lifetime.