UK Hearing, Audiology & Sciences Meeting 2022
Members of the SONICOM consortium had the pleasure of attending and presenting at the UK Acoustics Network (UKAN) sponsored Hearing, Audiology & Sciences Meeting this week on the 12 and 13 September in Southampton, UK.
The conference was open to anyone with an interest in the science of hearing, audio and audiology, with the aim of facilitating a friendly exchange of work and ideas.
Dr Lorenzo Picinali, scientific coordinator of SONICOM, chaired a session on spatial hearing and immersive audio rendering, which saw several members of Imperial College London's audio experience design (AXD) team present their work in this space.
"It was an excellent venue for presenting some early results from our work, as well as some plans for future works, and get very valuable feedback in a very informal way!" said Dr Picinali.
This session included a talk from Rapolas Daugintis, a PhD student in the team, who discussed his work on the development and evaluation of auditory-model-aided non-individual HRTF selection procedure.
"This was my first time presenting my work as a PhD student in an academic conference format. It was a good platform to develop my science communication skills in quite a relaxed environment and meet the academic community," said Daugintis.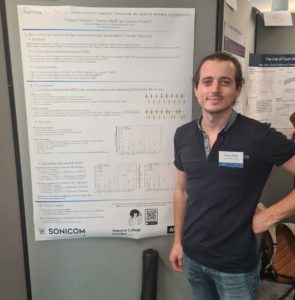 The meeting also had a poster session, which included Dr Thibault Vicente displaying work on assessing the effect of head-related transfer function on spatial stream segregation.
"This poster was a good opportunity to present our pilot study. It is always relevant to have feedback from other researchers at this stage, so that the protocol can be adjusted before the final data collection," said Dr Vicente.
See the full programme from the meeting on the UKAN website.